USA LOCATED 300CC VOS3000 SWITCH SERVER RENT

VOS3000 Monthly Rental SWITCH SOLUTION
08GB RAM & 120 GB HD
Backup and Firewall Services
99.9% Uptime Guarantee
08 Cores Processor
Unlimited Bandwidth
Anti Asterisk Auto Remover
Anti Hacker Facilities
Auto SoftSwitch Turn-On Sys
Latest Firewall Manager
Vos3000 V:2.1.4.0 OR 2.1.6.0
USA LOCATED 300CC VOS3000 SWITCH SERVER RENT

300CC VOS3000 SREVER RENT

Money Back Guarantee

03 Days

Details

100% FIREWALL SECURITY
FIREWALL MANGER
ANTI ASTERISK SOLUTION
OFFLINE SOLUTION
INSTALLED VOS3000 VERSION: 2.1.2.4 OR 2.1.4.0 OR 2.1.6.0

Dual Hexa Core,
Processor XEON E5-2630 V4,
DDR4 RAM,
US(New York) Location Base Server,
01 GB Internet Connection,
Unlimited Bandwidth.

100% UP TIME GUARANTEE,
24 hours good support. Server always active,
03 days Money Back Guarantee.


Payment method

HARD DISK

120 GB

Bandwidth

Unlimited

Uplink Port:

01 gbps

CPU Type:

Hexa Core

CPU Model

XEON E5 2692V2 or 2630V4

UP-TIME

99.99%
Related Products
1000CC VOS3000 SERVER RENT
Dedicated XEON SERVER
Intel 12 Cores
12 GB RAM & 500 GB Drive
2000CC VOS3000 SERVER RENT
Dedicated XEON SERVER
Intel 20 Cores
20 GB RAM & 500 GB Drive
E-Shopping Cart System
Unlimited Branch and Assistant Accounts
Date base all Reports
Grid System Reports View
Inventory, Cash and Invoice
Automatic generate Daily, Weekly and Monthly Reports
Demo Link:

http://visualhdstudio.com/sellandstock/in...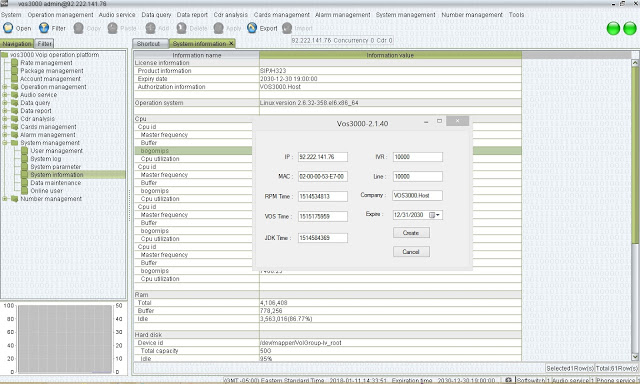 Star your vos3000 Server rent business with vos300 version 4.0
You will get with this package:
Full Vos3000 Package
1. apache-tomcat-7.0.tar.gz
2. emp-2.1.2-4.noarch.rpm
3. ivr-2.1.2-4.i586.rpm
4. jdk-6u45-linux-i586.rpm
5. mbx3000-2.1.4-0.i586.rpm
Product Details:
Automatic Single and Bulk Mobile Recharge / Flexiload.
Included Bkash and Dutch Bangla Mobile Banking system.
Unlimited Flexi load within 2-3 second.
Support All Mobile Operator

Rate: 40,000 BDT
Free With Software for Rate: 41,000 B...