USA LOCATED 120CC VOIP SOFTSWITCH SERVER RENT

VOIPSWITCH Monthly Rental!
DDR4 8gb ram & 120gb Hardisk
Backup and Firewall Services
Normal & Antiblock PC Dialers
8 Core Processor
Calling card IVR Module
Callback Module
Online shop Module
Codec Conversion Module
DID Distribution Module
VSPortal, VSC3 & VSR3 Modules
USA LOCATED 120CC VOIP SOFTSWITCH SERVER RENT

RAM: DDR4 8gb ram & 120gb Hardisk

Money Back Guarantee

03 Days

Details:

Protocol H323 and SIP. All codec support G729, G711, G723, GSM.

with our latest VoIP switch you can do::
1 . VoIP Termination
2 . Wholesale VoIP
3 . PC2Phone Customized Dialer
4 . Device2Phone
5 . Calling Cards Platform
6 . Web SoftPhone
7 . Web/ANI/DID/SMS Callback solutions
8 . Website Module
9 . Online Shop
10 . Callshop & Café module
11 . Call Center
12 . Invoice Generator
13 . VOIP Tunnel ( FOR SIP Device and PC2Phone )
14 . WebPhone
15 . Web Based Real Time CDR
16 . SIP/H323 Translation
17 . PostPay/Prepay & much more..

If you are looking to setup your VOIP business, then VISUALHDSTUDIO.COM is the right place for you. We provide a complete solution to launch VOIP (Voice Over Internet Protocol) business.

Payment method

HARD DISK

120 GB

Bandwidth

Unlimited

Uplink Port:

01 gbps

CPU Type:

Dual Hexa Core

CPU Model

XEON E5-2630 V4

UP-TIME

99.99%
Related Products
500CC VOIPSWITCH SERVER
DEDICATED XEON SERVER
Intel 16 Cores
16 GB RAM & 500 GB Drive
300CC VOIPSWITCH SREVER
DEDICATED XEON SERVER
Intel 12 Core
12 GB RAM & 500 GB Drive
PHP BASE IP tables manager
with offline Solution and Anti Asterisk block
Demo Link:
http://209.205.200.198:1984/login/index.php/login
for user and password contact with us via live chat or contact number

thanks
BDT: 8200 taka

PHP FIREW...
ncluded Load, Deposit, Share and Auodit tab

Automatic Days and Interest Count
Automatic Daily, Weekly and Monthly Reports
Automatic Statement Generate
Date base reports

Easy Manage and Control with Branch and Assistant Modules

Demo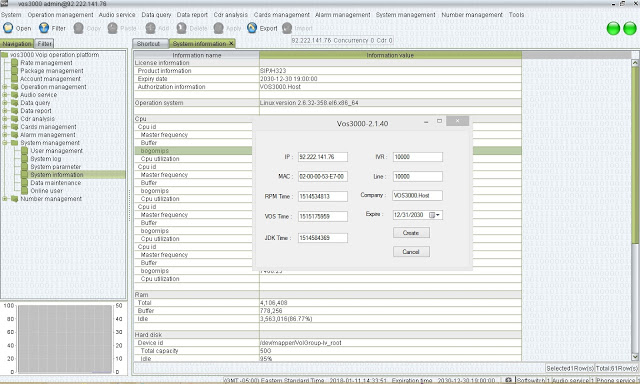 Star your vos3000 Server rent business with vos300 version 4.0
You will get with this package:
Full Vos3000 Package
1. apache-tomcat-7.0.tar.gz
2. emp-2.1.2-4.noarch.rpm
3. ivr-2.1.2-4.i586.rpm
4. jdk-6u45-linux-i586.rpm
5. mbx3000-2.1.4-0.i586.rpm